Reach your full potential with our life-skills and language development programs.
Reach your full potential with our life-skills and language development programs in the dramatic arts.
Become a better YOU with our life-skills programs designed to develop vital gains in self-confidence, individual expression, and language acquisition through the dramatic arts.
Public Speaking Course @ Wings Studio
December 03, 2022
Playback Theatre Workshop @ Wings Studio
December 04, 2022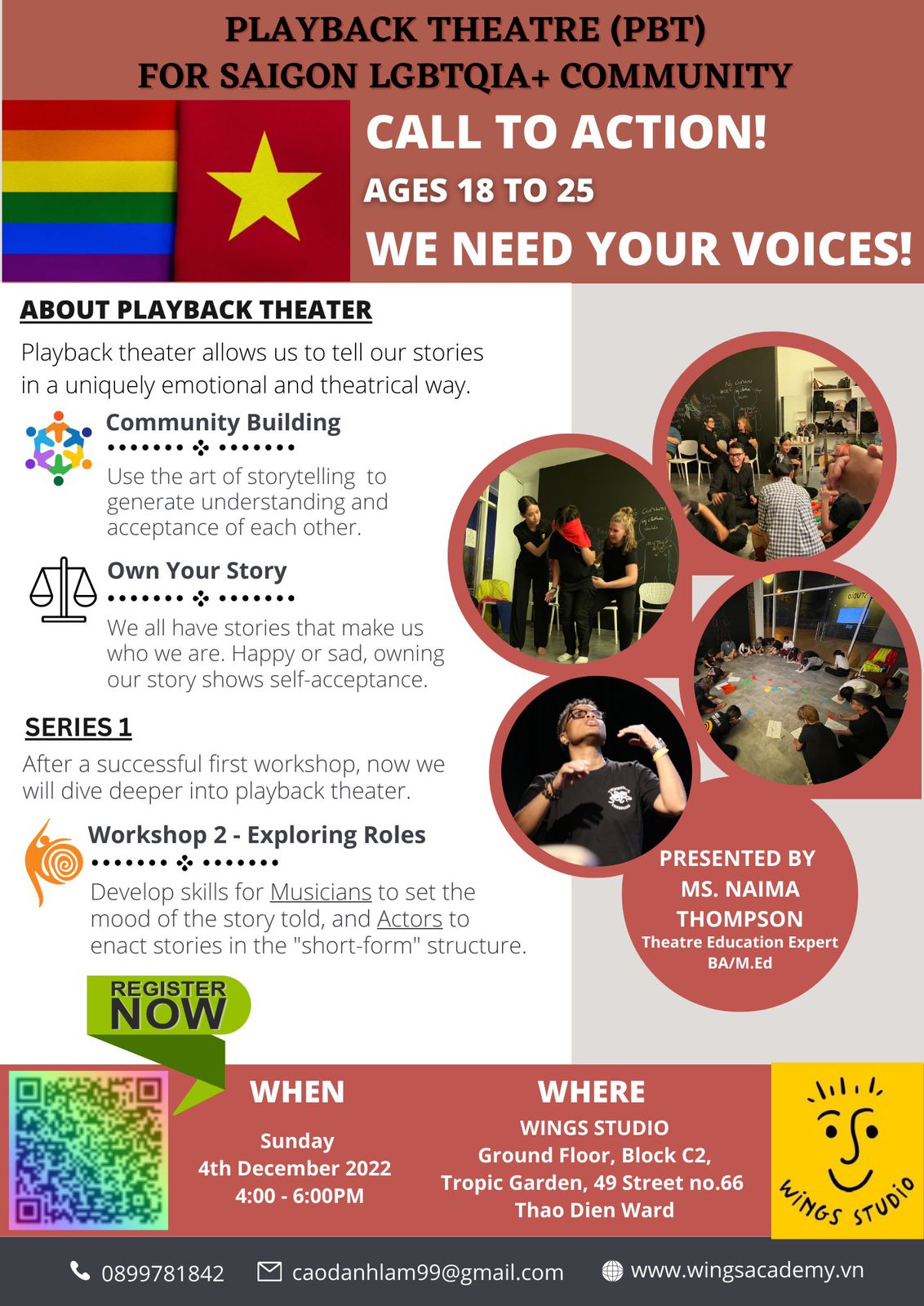 Engaging English with Naima Thompson
Effective professional English language tutoring
HOMEAWAY – A Life Skills Experience…Transforming Lives
The Morning Schedule offers trainees a rigorous fitness program including swimming, basketball, badminton, ping-pong, and jogging; domestic chores including food preparation and housekeeping.
The Afternoon Schedule offers on-the-job training for 90 minutes each day, where trainees work as interns on company tasks including clerical filing, copywriting, cataloging media, etc. They are then challenged with a daily 90-minute innovative project around integrated technology and design including coding.
The Evening Schedule offers city navigation for food shopping. After dinner, the trainees engage in artistic expressions of free writing, sketching, piano playing, and drumming, some board games of scrabble or chess, and finally ending each day with a meaningful movie followed up with discussions on the themes of the movie.
A Message from Our Founder
What Our Participants Say
I have known Naima Thompson since 2012, where she was my 7th grade drama teacher. I was very fond of the subject, and Ms. Thompson caught on to that quickly.
Over the years, I worked with her on 7 plays, 1 of which we co-wrote and directed
together.
I was also thoroughly involved in her non profit organization as well, where we helped educate children in Africa through providing acting classes in Dubai. I continued to work with Ms. Thompson throughout my years in high school. She is a teacher I have talked to, and worked with the most in my life.
The one thing I will never forget, is hearing her say, "We are aiming for perfection, period," once during a rehearsal for a play. And she won't stop till what she is working on is truly, perfect.
And her magnetic charisma infects you with this crave for perfection that will never go away.
The definition of leaders are made not born really is applied when the name Naima Thompson from Trinidad & Tobago is mentioned. "Naima The Leader" was once one of my teachers but forever one of my mentors.
The older I grow the more I realize how powerful your surroundings every single day are. If we don't have powerful leaders to have the "right" impact on our lives, individuals can miss key parts to one's life of successes.
Naima believed in me not as just an athlete but a human being. This has really helped me to keep pushing to be the best human I can be and still today the leadership quality she embedded in me keeps my trail-blazing mentality going.
I have known Ms. Naima Thompson since 2016, where she was my 6th grade drama teacher, and since then, she has continued to be an inspiration to me.
I have always loved drama, and Ms. Thompson realized that quickly. She gave me opportunities to push myself, to grow, and to experience things I had never done before. Ms. Thompson believed in me like no one had ever done before.
I was involved with her non-profit organization as well, where we helped educate underprivileged children in Africa through the dramatic arts.
This outreach program was funded by the drama classes Ms. Thompson taught.
In these classes, I was exposed to real world issues, and was able to understand them through writing and performing my own pieces.
Ms. Thompson opened my eyes up to the real world, and gave me opportunities to grow as a performer and as a person, and for that, I am forever grateful.
Ms. Naima Thompson is an inspiration to the youth and elderly. She was like a mother to me and all her other students. She taught me in a way that learning was fun and easy.
Ms. Thompson has a way of making you competitive, but not with others, always with yourself. This provides you with a means of improving and self confidence.
Everyone goes through tough times, as much as I did, and we all have our own problems. I can guarantee you that having Ms. Thompson in your life will help you overcome problems and fears.
I had a phase in which I was lost, I was going down a path that was leading me nowhere. Through all her truthfulness and sharing Ms. brought me back on a track I can be proud of.
She helped me to find the little light in my life and make it brighter. She helped shaped me into the person I am today.
Leaving Ms. Thompson broke my heart, but I still miss her with all the broken pieces.
Naima has the ability to have a lifelong impact on young people. She was first my high school drama teacher (2003 -2006), but more importantly, became a mentor and life long friend.
Even though we moved continents away from each other, Naima continued to coach and guide me. She mentored me through a University degree in Theatre Production and Design, and as I later worked in the Theatre industry in Toronto.
Even as I recently completed my Masters degree and became a teacher myself, Naima continues to invest time and care into a former student.
One of the most impactful lessons that I learned from Naima is: It doesn't matter what your background is, how much money you have, which school you go to. We all have the same ability to tell a story and transform ourselves into someone else for a short time.
This transformation allows us to build empathy towards others, or to gain courage and skills to change our own story.
Ms. Thompson is a great teacher.
I always saw her as my mentor. She has helped me use theatre as a way to express myself. When I first walked into her class I was very shy and I had trouble with public speaking.
She helped me overcome that struggle and gave me my passion for theatre. She pushed me to use my full potential and help make me a better person.
She always gives the best advice and life lessons, she has truly helped me grow throughout the past years and I could never be more thankful to have such a teacher in my life.
We would love to hear from you.
Please contact us today to learn more about how our programs can help you reach your full potential.
Thank you!