Necessary Arts
Promoting social justice through youth and adult arts programs
At Necessary Arts, our mission is to employ an extensive and comprehensive program in the arts to empower participants to realize their full potential to become confident, productive and innovative contributors to our global society.
Events
Development
We offer training and workshops for young actors and performers, volunteer teachers and corporate team building.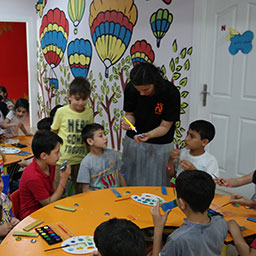 Outreach
"Reach the Unreachable"
We build bridges to connect children from all ends of the socio-economic spectrum in an effort to demonstrate the importance of being a global citizen.
Education
Education Fund
We are committed to sustaining access to quality secondary education for all our outreach participants.
Necessary Arts School Celebrates 20 Years
Come learn stage, film, and television acting with Necessary Arts! Classes for both adults and children available.
Both online and "live" classes available.
Registration begins 19 April 2022.
In 2020 after we experienced the harsh void of no theatre for almost 6 months, we called our past and present acting students to explore Naima Thompson's (1996) R.E.A.L as a Zoom theatrical performance.
Penelope Spencer agreed to direct it.
With the lockdown restrictions she was able to have up to 5 actors in the room so some of the scenes are shot in the headquarters on DunDonald St. POS.
The majority of it was delivered from the homes of the actors and for this we are grateful to them and their households for being so patient and accommodating to the process.
In October 2020, Naima initiated the project from Saigon, Vietnam with volunteers supporting the technical process from Dubai, Vietnam, the USA and Trinidad.
Finally, after a year of several obstacles and an awesome editor in Trinidad, Roland Rocke, joined the production team, we present this teaser of R.E.A.L. to you, our community.
We hope you will appreciate and enjoy it as much as we do. Additionally, it will be barcoded into the upcoming NAS book publication penned by Naima Thompson.
Have you always wanted to be an actor? Now's your chance.
Don't miss our Adult and Children Drama Classes. Registration begins 13th September.
Our Founder, Naima Thompson, Speaking on
"Teachers for Humanity"
What Our Participants Say
I appreciate what you're doing for the kids; we appriciate having Ray and Nelyson in Kilifi, we really love them.
The children really enjoyed learning about making things using empty bottles and papers that we used to see like rubbish. But now the children were going to use them to make things like drams, flowers and much more.
Thank you so much, we really appreciate it! The kids also learned more about drama and how they're going to be while on stage.
Thank you again, and I promise you that I will continue to work with the kids and what Ray give to me, like the learning and how to make things. We will continue do it with our passion.
I will never forget the first day I walked through the doors of Necessary Arts!
I was only 11 years old with butterflies of excitement. Enrolling at Necessary Arts was not only an exhilarating experience for me, but it has also remained one of the most indelible and rewarding.
I was not only exposed to the rudiments of theatre – I received rigorous training and learning in adaptation and survival skills, which I am proud to say I now employ in my day-to-day activities.
My first acting class was at Necessary Arts when I was 7 years old. They taught and challenged me to lose my inhibitions. It truly was magical to train there and so inspiring learning from two wonderful women, Naima Thompson and Penelope Spencer.
I remember their strength as leaders and their determination, passion, patience, and commitment to us as students. I would go to classes beaming ready to act and dance for my life.
The sessions were fun but also mentally and physically challenging.
Stimulating minds through artistic expression
Necessary Arts uses the art of performance to foster the development of literacy, communication and leadership skills, among its participants.
Sharing perspectives though the exchange of real-life stories will support a fair exchange of experiences and challenges facing the groups and will be expanded locally, regionally, nationally, and internationally.
Desired Outcome
To elevate the social consciousness of all participants
Objective
Our programs are designed to develop leadership skills, build self-affirmation and empower students and participants to achieve their highest potential.
Group dynamics, problem-solving concepts and conflict resolution strategies are implemented for experiential and discovery-based education for all ages.
We are building bridges to connect children from varied sections of the socio-economic spectrum in an effort to demonstrate the importance of being a global citizen.
Focus
Empowerment is the process of becoming stronger and more confident, especially in controlling one's life and claiming one's rights.
Education is a human right for all throughout life and that access must be matched by quality.
Global Citizen is aware of the wider world and has a sense of their own role and responsibility in making purposeful contributions toward humanity.